Barbecue Ribs....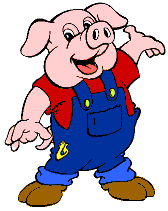 Just uttering those two simple words can exert a powerful influence over many. For some, it brings back a flood of great memories - good times with friends and family. For others, those two words can make the mouth water and cause a deep hunger for great food. In still others (and you know who you are), 'Barbecue Ribs' stirs up a passion that not much else can equal. They are zealous over the whole experience of smoking pork ribs from picking out the meat to picking it out of their teeth.
No matter where you are on the barbecue ribs spectrum, we want you to find something at Piggy Ribs to make smoked pork ribs more enjoyable, to bring great ribs more within your reach. Try a new rub. Use a different wood. Experiment with another sauce. Turn down the heat. Try a new restaurant. Buy a better smoker. Whatever you find, use it to take you closer to your goal of smoking pork ribs better.
Why Pork Ribs?

At Piggy Ribs, we believe the memories, hunger, and passion make smoking pork ribs (and eating them) enjoyable. In spite of the price of meat and the time involved to smoke it, barbecuing and learning to make it better should be fun. Eating messy food with your hands should still give a childlike thrill, and nothing is better suited for it than barbecue ribs that have handles built right into them. So dig in, and get sauce or grease or pig from ear to ear. Whether it's because you paid for it, prepared it yourself, or traveled a long way to have it, you deserve to enjoy it.
Pssst.. you missed a spot on your chin....
The Little Black Book of Barbecue
Smoking Pork Ribs & Best Smoked Ribs articles-
13 Feb 2016 at 5:20pm
Video: @STOKGrills Rib and Kabob Insert Unboxing and Grill Set ...
25 Oct 2015 at 7:00am
Click For Video- https://www.youtube.com/watch?v=f5Zy_FwOqIw Demonstrating the STOK Charcoal Drum Set Up For Smoking Pork Ribs Using The STOK Insert System Rib and Kabob Insert.

Video: @STOKGrills Rib and Kabob Insert Set-Up For Smoking Pork ...
25 Oct 2015 at 9:50am
The Homie Cast. Grillin, Chillin and Podcasting With The Boys. Posted on October 25, 2015. Video: @STOKGrills Rib and Kabob Insert Set-Up For Smoking Pork Ribs Part II. Part II Of Our Demo Using The STOK Grills Rib and Kabob Insert ...

How Long To Smoke Ribs?- PiggyRibs.com
29 Jun 2006 at 1:00am
Grilling and Smoking are only related in terms of heat and meat. Grilling is the use of high, direct, fast heat to cook food to the point of doneness, while low and slow BBQ heat is used to cook it to the point of tenderness. Grilling is convenient ...